Who doesn't love a GIVEAWAY?! Here's a chance to get your hands on SHADE SPF 30, our well-formulated, non-whitening, non-greasy, mineral-based sunscreen that covers all the bases and protects against UVA/UVB rays all year round. We've literally got you covered with our new sunscreen! We've worked so hard to perfect it and are excited to share it with you! Be good to your skin and stay sun smart, everyone!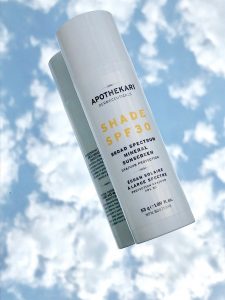 THE GIVEAWAY: One lucky winner will receive a summer's* supply of our SHADE SPF 30 facial sunscreen – available just in time for the intense summer heat! Any purchase at Apothekari.com between June 7 (we're making this one retroactive) and June 22 gets you an automatic entry into the draw. To increase your chances, pop on over and enter through our Instagram, Twitter and Facebook pages – links below.
G O O D L U C K and keep an eye on social media for stories and posts and a closer look at our brand new SHADE SPF 30 sunscreen.
**Non-waterproof facial sunscreen
**We highly recommend sun protection all year round
*3 months' supply (3 bottles with a total value of $135) to get you through the summer – if used daily at recommended dose of 1/4 tsp application.
Apothekari SHADE SPF 30
Mineral sunscreen formulated with zinc oxide (13.5% concentration).
Chemical sun filter free.
SPF 30.
Non-whitening.
Broad spectrum UVA/UVB protection.
Antioxidant support to protect against free radical damage generated by UV exposure.
Suitable for all skin types. Especially suitable for sensitive skin types unable to tolerate chemical sunscreens.
Physical blocking sunscreens like those containing zinc oxide are the sunscreen of choice for individuals with melasma because they work to block/reflect sunlight and prevent UV rays from reaching the skin. Chemical sunscreens absorb UV rays and convert it to harmless energy so the rays may still contribute to the development of melanin.
Fragrance free
Paraben free
Silicone free
Sulfate free
Phthalate free
Gluten free
Synthetic colorant free
Cruelty free and absolutely no animal testing.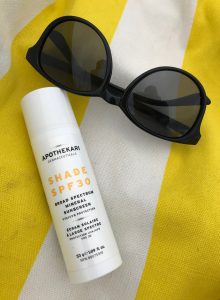 Contest Details
Contest valid until June 22, 2018.
Winner announced June 25, 2018.
Winner will be selected at random and contacted directly to claim their win & provide mailing information. If no claim has been made within 72 hours, we will select another name.
By entering the giveaway you agree to have your name or social media handle publicly posted.
*Radio Maria Canada Interview with Cathy Biase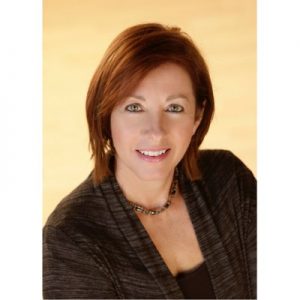 If you missed it, I was recently interviewed by the lovely Cathy Biase on her show The Health Hub at Radio Maria Canada. Cathy is a Holistic Nutritionist and Cancer Coach with a Bachelor of Science from the University of Toronto with a major in Psychology.
During the show we talked about how to promote healthy skin, skin care must haves and adopting a holistic approach to skin care. Podcast coming soon and we will share the link with you!
If you're interested in health, nutrition and wellness, Cathy's show features health experts who share advice on how to be the best you. She's a wonderful, engaging interviewer and I highly recommend tuning in to her show, Tuesdays 8 am Pacific/11 am Eastern.