Based in Vancouver, British Columbia, Apothekari Skincare is an indie, female-owned & operated, proudly Canadian company! We take our inspiration from apothecaries, the precursor of today's pharmacies, resulting in a modern-day boutique specializing in healthy formulations for skincare. In this post, we're sharing more about us, including where we've come from, what we stand for and where we're going. Let's get acquainted!
Our Roots
I'm Sharmani Pillay, a pharmacist by training and the founder of Apothekari. My career has involved dispensing medicines, counselling patients on their prescriptions and making recommendations for their wellness needs. Nearly 15 years ago, I took that knowledge to open my own business (now PhaMix.com) selling a range of curated wellness and skincare products.
It became clear to me that women needed better skincare products and so Apothekari was born. Our formulations are:
Naturally safe, without harmful ingredients
Effective, containing optimal concentrations of ingredients proven to deliver healthy & beautiful skin.
Whether it's a moisturizer for dry skin, a serum for brightening or a lotion to diminish the appearance of fine lines. Apothekari's products work as they are intended, without hype and misinformation. We won't tell you to use products that you don't need nor will we scare you into using ones that can't improve your skin.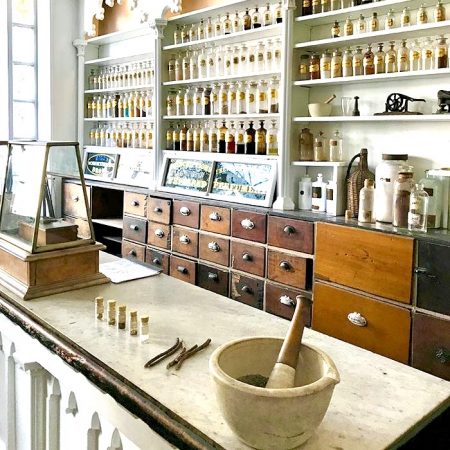 We Stand For Wellness
Apothekari provides naturally safe products for face and body, but we stand for much more. Skin is our body's largest organ and it reflects our overall wellness. Optimal care goes beyond just popping a pill or slathering on a cream. We understand the importance of a holistic approach to wellness and embrace self-care, sound nutrition, exercise, quality sleep and stress management to aging well and looking & feeling good.
You deserve exceptional products and services, which means attention to detail in every aspect of our operations. Like many entrepreneurs, I wear lots of different hats and am involved in almost everything, including writing all the blog posts, managing social media, taking photos, working with designers and collaborating with chemists on formulations. On any given day, you may also find me answering phone calls, replying to emails and shipping out orders. Each day is different; boredom is a word that doesn't exist around here!
None of this, of course, would be possible without the small team of wonderful women, whom I'm grateful to work with every day.
Exciting Developments For This Canadian Company!
There's no good idea that cannot be improved on.

Michael Eisner
We've recently launched new skincare sets and watch for more coming soon. Lots of innovation is going on behind the scenes, with several products in development, some offering unique advantages over others currently available today. We can't wait to share them with you!
Thank you for being part of our journey. Read more about us here.