March's Be Beautiful Apothekari: Desh

My "Be Beautiful": Being beautiful has to do with living your life generously – what you do in life matters.
Desh, 51, Speech-Language Pathologist, Co-Founder ChangeYourAccent.com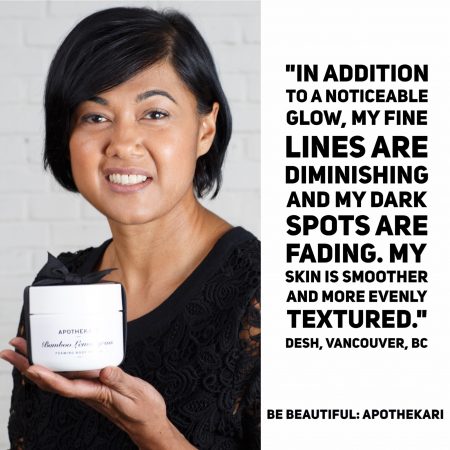 "I have sensitive skin and I've tried countless skin care brands that I just couldn't tolerate. However, my skin loves Apothekari! I've used (and am using) the whole range of products including, A is for Anti-Aging, Daily Infusion Moisturizer, Bespoke Vitamin C 10% and AHA-Mazing Clean Cleansing Gel.
In addition to a noticeable glow, my fine lines are diminishing and my dark spots are fading. My skin is smoother and more evenly textured. I recently turned 51 and can honestly say that my skin looks better than it did 5 years ago. I can get away with less foundation and cover up and couldn't be happier with these products."