Pomegranate Juice/Oil/Extract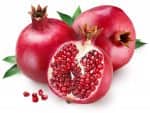 Pomegranate (Punica granatum) is available as juice, oil, or extract.
Juice: Pomegranate fruit juice is a juice expressed from the fruit of the pomegranate, punicagranatum. It is used as a Skin-Conditioning Agent and for its scent properties. It contains punicic acid, an omega 3 fatty acid, which helps moisturize and hydrate dry skin. In oily skin, pomegranate juice can help prevents breakouts and control the production of sebum. 
Oil: Pomegranate seed oil is rich in ellagic acid, punicic acid and other fatty acids. 
Ellagic acid is an antioxidant that has been shown to help prevent skin cancer as well as preventing UV damage and wrinkle formation. It also lightens and brightens the skin. 
Extract: Pomegranate fruit extract contains extract from both the peel and the fruit. It is a rich source of ellagic acid and polyphenols (antioxidants), making it valuable in fighting free radicals. Ellagic acid, has been shown to inhibit the growth of cancer of the skin.
It is also mildly acidic, making it potentially useful in the treatment of acne.  
Pomegranate extract promotes the synthesis of collagen resulting in a mild thickening of the epidermis and dermis of the skin. It can also prevent the breakdown of collagen fibers, the culprits of skin aging and wrinkles. It can be used both to prevent and to reduce sunlight damage. 
References:
Eur J Pharm Biopharm. 2016 Nov 17. pii: S0939-6411(16)30616-6. doi: 10.1016/j.ejpb.2016.11.014. [Epub ahead of print]
J Ethnopharmacol. 2006 Feb 20;103(3):311-8. Epub 2005 Oct 10.
Pomegranate as a cosmeceutical source: pomegranate fractions promote proliferation and procollagen synthesis and inhibit matrix metalloproteinase-1 production in human skin cells. Aslam MN1, Lansky EP, Varani J.
Mater Sci Eng C Mater Biol Appl. 2016 Jan 1;58:1046-57. doi: 10.1016/j.msec.2015.09.039.
Tissue Eng Part A. 2016 May;22(9-10):754-64. doi: 10.1089/ten.TEA.2015.0536. 
 Found in:
Bespoke Vitamin C 10% Serum (oil)
Bespoke Vitamin C 15% Serum (oil)
Lemon Verbena Sugar Body Polish (oil)
Save
Save
Save
Save
Save
Save
Save
Save
Save