I'm not hugely into Valentine's Day (though I must confess I like the chocolates :)) and this year I'm in the mood for a bit of self reflection, making self love and self care seem like appropriate topics for today.
You've no doubt come across the terms self love and self care more of late. Self love is a state of appreciation for oneself that grows from actions that support our physical, psychological and spiritual growth. Many experts contend that if you are good to yourself, kind to your body and soul, then you can completely and authentically give and receive real love. By practicing self love, we begin to better accept our weaknesses as well as our strengths, have less need to explain away our shortcomings, have compassion for ourselves, are more centered in our life purpose and values, and can expect to live a fulfilled life through our own efforts. Loving and nurturing ourselves through self care leaves us feeling less resentful, more energized and well rested and able to receive love more readily.
Contrary to what some may say, self love and self care do not involve beauty makeovers or new wardrobes. While these things may feel gratifying, they will not help you to love yourself more. Here are seven things that may actually work:
Be Grateful. Whether through meditation or journaling, document your accomplishments, the things you feel good about and everything you are grateful for. It will help to give you appreciation for all that you have instead of focusing on what you don't.
Be Positive. Turn down your inner critic. Choose to be your own cheerleader.
Forgive Yourself. We humans can be so hard on ourselves. Accept that you aren't perfect and can make mistakes. When you make one, try to learn and grow, rather than beat yourself up over it.
Be Mindful. Try to be more aware of what you think, feel and want. Live with design and purpose. By doing this you will make decisions that support this intention and act on this knowledge rather than being swayed by others.
Practice Good Self Care. Take better care of your basic needs. Be more thoughtful about choosing nourishing food, exercising, getting enough sleep and choosing healthy relationships.
Set Boundaries. Set limits and learn to say no to work, relationships or activities that deplete or harm you physically, emotionally and spiritually.
Protect Yourself. Bring the right people into your life. Get rid of people who bring you pain and who take pleasure in your losses. Focus on those who share in your happiness and success and who bring a smile to your face.
This Valentine's Day, let's focus on self love. Let's give ourselves a break, appreciate who we are and share our awesome selves with the world! I think that's a better gift than any bouquet of roses could ever possibly deliver.
DON'T FORGET!
The contest for our Valentine's Day Giveaway runs until February 18th! You only need to shop online at Apothekari.com to qualify for an entry into our prize draw featuring over $200 of Apothekari products. Follow along on social media (Facebook, Instagram and Twitter – links below) for additional chances to win!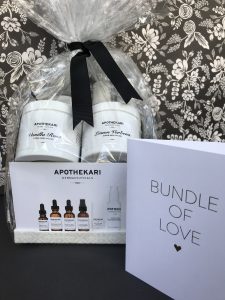 Retail value: $218
Contest Closes: February 18th and winner will be drawn on February 20th.
Good luck!