In honour of Valentine's Day this month and to show our appreciation, we'd like to send some love your way! Starting today (February 8th) and until February 15th, 2017 our gift to you is a 1 oz jar of our indulgent and ever so popular Bamboo Lemongrass Foaming Body Polish.
No code needed and this special gift is included with every purchase at our online store. PLUS for some extra love, all orders ship free! For free shipping use code love2017 at checkout.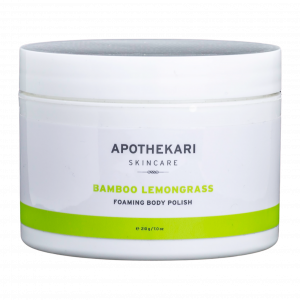 Everyone loves this luxurious polish, which tackles even rough knees, elbows and feet, leaving skin feeling soft and smooth.
For a little bit of extra pampering follow up with our Shea Body Butter – made with healing herbs, fresh oils, natural vegetarian waxes and an intoxicating blend of essential oils to heal dry, cracked and callused skin. Whatever you do this month, take time to honour yourself – you deserve it!