Last time I checked, school was out and I was looking forward to a long summer filled with dinners outside, hikes through local trails, days on the beach and me reading a few novels. Here it is mid-August and while I've had a wonderful summer so far, it is flying by way too fast!
I love (and have time) to read on holidays but this being the year of the Staycation, time has been limited. This of course, doesn't stop me from buying books because I'm always adding to my collection, waiting for the perfect time to dive in. I'm also a member of a book club so there's never a shortage of choice.
I've just finished reading The House Girl, a novel by Tara Conklin that alternates in time between pre-Civil war Virginia and modern-day New York. I loved the detailed historical description of life on the plantation – awful as it is. Well researched, it has a story line about slavery reparations, which was a different angle to many novels set during this time period. Conklin did a good job on creating empathetic characters and I thought it was a solid summer read.
Still gracing my shelves and awaiting the perfect opportunity to get started are the following: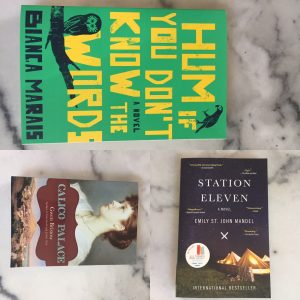 Calico Palace by Gwen Bristow. Having loved the tale Eleanor Catton crafted in The Luminaries, I stumbled upon this novel, which seems to have a similar vibe. Published in 1970, it's a romance/historical novel/adventure story that brings the California Gold Rush to life. Contrasting the focus on New Zealand's goldfields in Catton's novel, it's apparently got lots of twists and turns and is dubbed as a powerful feminist book. Looking forward to this one!
Station Eleven by Emily John Mandel. Published in 2014, this book was on the NY Times Bestseller List and has won several awards. It's been on my wish list for a long time and I finally picked up a copy. Dubbed as a suspenseful science fiction read, it's not something I'd normally choose, but the reviews have been so glowing, that I can't wait to get started.
Hum, Even if you don't Know the Words, Bianca Marais.  I was born in South Africa and upon reading the excerpt of this novel, I couldn't help but fall for this book. It doesn't hurt that it has received glowing reviews. Set in Apartheid-era South Africa, it claims to examine 

loss, racism, and the creation of family.

 Although it's been decades since I emigrated to Canada with my family, part of my heart will always reside in this glorious but still troubled country.
What are you reading this summer?