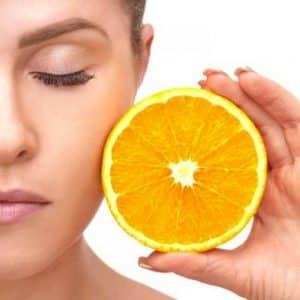 Vitamin C (ascorbic acid/l-ascorbic acid) is a water soluble antioxidant. Important for a healthy immune system, it also has many applications in skin care. Regular use helps skin texture and quality. It also:
• Helps slow the production of melanin, which prevents dark spots on face
• Antioxidant action helps fight free radical damage from UV rays and pollution, reducing skin damage on a cellular level and may slow the development of skin cancer
• Encourages collagen production so skin looks and feels firmer. May even get rid of wrinkles in some cases.
Look for products with a pH of 3.5 or less. The acidity helps with absorption. Concentrations above 20% are thought to be damaging and not beneficial.
Found in:
Bespoke Vitamin C 10% Serum
Bespoke Vitamin C 15% Serum
Antioxidant Firming Eye Gel
Save
Save
Save
Save
Save
Save
Save