You already know me as the face behind Apothekari, but what you may not know is that I'm also the founder of PhaMix.com, an online store that stocks a range of Pharmacist curated skin care solutions from head to toe.
PhaMix was launched in 2006, almost 12 years ago, a VERY long time when it comes to the internet! If you've visited Apothekari.com recently, you may have already noticed a little transformation. Apothekari.com now shares space with PhaMix.com – you can switch between the sites by clicking on the name and site link on the top left hand side of the site. We're really excited to move on to this exciting next chapter and to celebrate this transition, we're doing a giveaway containing over $500 worth of products!

Welcome PhaMix.com
You may wonder why we've decided to merge the sites and it's really about being able to serve you better. We know that you're fans of Apothekari and while we offer a range of treatments to suit most skin types and needs, as a small brand, we cannot cover solutions for everything. Allowing you to access a wide range of skin care solutions, which I've personally curated, with one checkout, will hopefully help to simplify your shopping experience. 
Beyond science-based skin care solutions for your face, PhaMix offers a range of high SPF suncreens, women's wellness solutions and effective body treatments. We will be introducing new products and brands to the store so make sure to sign up for the PhaMix newsletter (at the bottom of the site) if you'd like to stay current with our news. You will still be subscribed to our Apothekari newsletter, but 
FREE SHIPPING remains at $75 if your cart contains $75 of Apothekari products. If you are not purchasing $75 worth of Apothekari products, a total of $125 (which can include Apothekari products) l gets you free shipping within North America. All Apothekari orders will be processed on PhaMix.com moving forward. 

Enter to Win A Giveaway Worth Over $500!
We're excited about the merge of our two websites and we're doing a giveaway to celebrate it. The giveaway contains a range of top selling Apothekari products PLUS those at PhaMix and is valued over $500.00!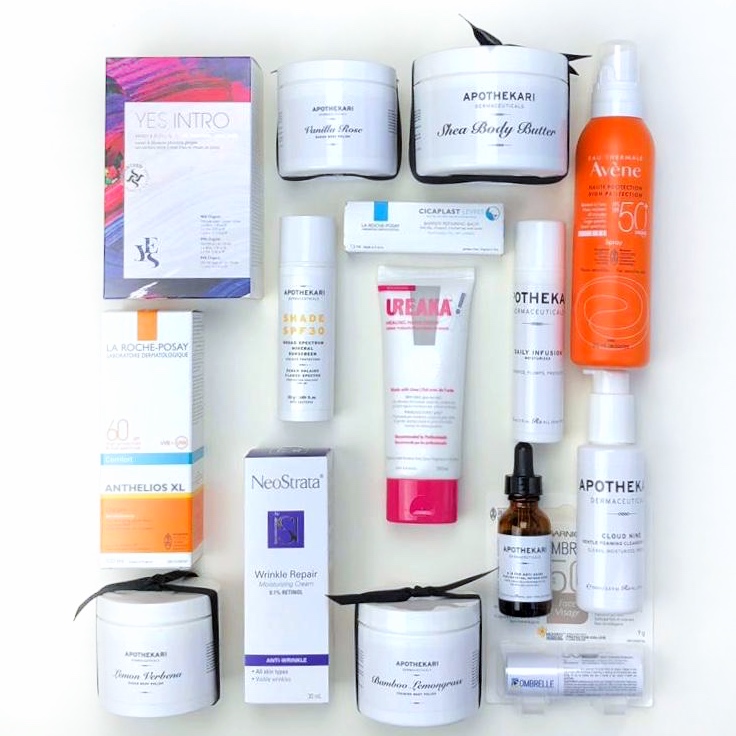 It's easy to enter and details are below.
The giveaway contains the following products:
• Apothekari A is for Anti-Aging Serum – Gentle, effective retinoid formulation to reduce appearance of wrinkles and fine lines, increase skin cell turnover, boost collagen and elastin production, brighten skin tone, increase skin moisture content, protect against photo-aging.
• Apothekari Shade SPF 30 Sunscreen – Non-whitening, zinc oxide mineral sunscreen with added antioxidant protection
• Apothekari Daily Infusion Moisturizer – Hydrates, plumps and improves skin barrier function to help protect against environmental irritants.
• Choice of Apothekari Cleanser (our Cloud Nine is pictured but can opt for AHA-Mazing Clean Cleansing Gel). Cloud Nine is a gentle, foaming cleanser that not only cleans, but also moisturizes and protects skin. AHA-Mazing Clean offers a triple alpha hydroxy acid combination to gently exfoliate clogged pores and promote cellular renewal.
• Apothekari Shea Body Butter – Organic shea butter is infused with healing herb and fresh oils and an intoxicating blend of essential oils to heal dry, cracked and callused skin.
• Apothekari Bamboo Lemongrass Foaming Body Polish – Consider this your secret spa! Revitalize and invigorate your skin and your senses with walnut shell powder, powdered bamboo and a light, refreshing essential oil blend of lemongrass, mimosa, and litsea!
• Apothekari Vanilla Rose Sugar Body Polish – Smooth, non-drippy sugar polish with a modern and subtle scent of rose plus a faint hint of vanilla. Ideal for aromatherapeutic body treatments or a little pampering in your bath.
• Apothekari Lemon Verbena Sugar Body Polish – Smooth, non-drippy sugar polish with a bright, aromatic citrus scent Ideal for arom.atherapeutic body treatments or a little pampering in your bath.
• Anthelios XL SPF 60 Melt-In/Comfort Cream -Broad spectrum UVA/UVB sun protection formulated with Mexoryl technology. Dermatololgist recommended.
• Yes Organics Intro Pack (Natural Lubricants) – Yes Intro Pack is an easy way for you to try three different Yes Natural Lubricants – Yes Water Based Natural Lubricant, Yes Oil Based Natural Lubricant and a new Yes Oil Based Applicator Lubricant. Certified organic.
• Avene Sunscreen High Protection Spray SPF 50+ – Broad spectrum UVA/UVB sun protection formulated with Tinosorb S and Tinosorb M. Convenient spray application.
• Ombrelle Face Stick SPF 50+ – Broad spectrum UVA/UVB sun protection featuring Mexoryl technology. Convenient and portable stick application ideal for face, ears, lips.
• Neostrata Wrinkle Repair – This winning combination of retinol plus peptides is clinically proven to reduce the appearance of deep wrinkles.
• La Roche Posay Cicaplast Levres (Lips) – Soothing, protective lip treatment to help with chapped, cracked and irritated lip.
• Ureaka Hand Cream – This formula has been found to actively restore moisture even to very dry, cracked and/or flaky skin. Formulated with urea, an essential component of the body's Natural Moisturizing Factor (NMF).
Giveaway Contest Rules
Here are the contest rules:
The contest is open to anyone residing in Canada and the USA.

You will receive ONE entry for each follow across our 

PhaMix social media platforms

 – links below and on PhaMix.com at the bottom of the site. This includes shares and retweets. Please note that tagging is limited to 3.


Instagram (phamix_skin)




Facebook (PhaMixSkin)




Pinterest (phamix_skin)




Twitter(PhaMix_Shop)
The contest starts now and ends on Saturday, November 10th.
The draw date will be announced on our social media posts and the winner will be notified after the draw is held.
GOOD LUCK ALL!