Here in the Pacific Northwest, autumn (and hints of winter I may add!) is in full swing. Many people I know welcome the cooler weather, but I'm still pining for sunshine and heat. That feeling is likely to continue until it warms up again – it's just the way I roll!
While I may not love winter, the cozy vibes that it can deliver aren't so bad. Especially so if I can be tucked up under a blanket, the fire blazing, a hot cup of tea near me and a good book to read. That's my fantasy winter because in reality life is too busy for all that much reading and fire time. However, it's something I prioritize so on an evening or weekend when I'm caught up on work or just need a break, you may find me on our couch sneaking in a little break.
What I'm Reading Now
As a member in a long running book club, I generally am not short of reading material. And because I also have a tendency to pick up books that pique my interest, my shelves are usually filled with books yet to be read. I recently attended Read for the Cure with my book club. This is an event that harnesses the energy of enthusiastic book clubs and readers to raise funds for cancer research. In addition to this being a wonderful cause to support, our group was able to listen to three fantastic authors speak about writing and their novels:
We came home with copies of all three books and I'm looking forward to diving in at some point. If you're part of a book club, and this event is being held close to you, consider attending with your group.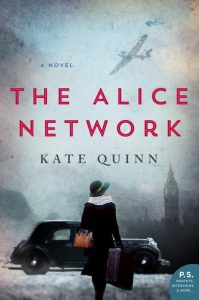 Our club just finished reading Hillbilly Elegy by J.D. Vance – an interesting look into working class life in the Appalachian region. It's a fitting read for these times. We are now reading The Alice Network by Kate Quinn. This historical novel is told in two different timelines – France during World War I and post-war 1947. It features two women—a female spy recruited to the real-life Alice Network and an American socialite searching for her cousin. I'm a fan of historical novels and it's been an enjoyable read so far. I like it; just not sure I love it…
What about you – what are you reading now?
Save