A hydrosol, also known as a floral water, flower water or a distillate, is a result of the steam distillation of plants.
It is produced when plant material is brewed with water in a large vessel. As the temperature rises, the vessel fills with steam. The temperature rises causing glands in the plant to burst and release its oils and plant essence into the steam. The oil component rises through a condenser and is collected in a separate container – resulting in essential oil. All the fragrant water that was steamed with the plant material is known as hydrosol or floral water.
A Hydrosol for Your Skin?
Hydrosols are used widely in personal care products. When it comes to skin care, they may be more suitable than an essential oil because they contain all the essence of the plant but in a milder form than an essential oil. Rose, orange blossom (neroli) and lavender hydrosols hydrate dry skin and cool hot and sensitized skin. Chamomile may be used to remedy puffy, under eye dark circles. In hair care, a hydrosol may help to condition and add shine after shampooing.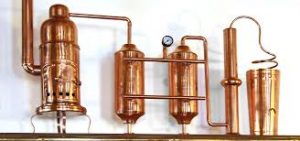 Hydrosols Are Used in a Variety of Additional Ways:
Peppermint hydrosol in the summer is very cooling. It can be taken along on holidays, to the beach and for use on sore feet after long excursions.
Lavender soothes and comforts sunburned skin.
Chamomile and lavender hydrosol are added to bathwater to calm restless babies. They are safe for young children since they contain a very small amount of essential oil.
Rose or neroli hydrosol can be added to the final rinse water in your washing cycle or as a fragrant linen spray whilst ironing.
Hydrosols can freshen the air.
A hydrosol may not spring to mind as a must-have in any skin care regimen, but it can certainly help to spice up your life. I'm seeing a lavender hydrosol spritz for my pillow, a lemon verbena one to freshen up the air and a peppermint spray for my workout bag. Do you see one in your future?