Apothekari Press Coverage
Here's a snippet of Apothekari press coverage from various media sources.
Montecristo Magazine – Why I'm Swapping My Antiperspirant for Deodorant This Pandemic (April 2020): "Enter Apothekari Skincare, which offers a deodorant, not antiperspirant. Not only is its natural deodorant free from aluminum and parabens, it also eschews baking soda, which most natural deodorants use to control odour (think itchy rashes)."

BC Business Magazine – Beauty Without The Beast. Safe Beauty Products (April 2020)


Cosmetic Proof – Apothekari pH Balanced Natural Deodorant (May 2020)

"In short, I would buy this deodorant on my own as smelling like nothing is WAY better to me than smelling like "I'm covering up something" or obviously like body odour. I also trust and appreciate the research I know Apothekari has invested into making sure the formulation is scientifically sound so I know that's also partly where my dollars are going."
Vita Daily – 20 Under 20K (April 2020)
"…some of the Vancouver-based businesses (with less than a 20K following on Insta) that deserve your social attention." —Vicki Duong
" @apothekariskin. Natural deodorant is a product some shy away from due to the detoxifying stage (read: sweating out toxins) but, since you're spending time at home anyway, now's a good time to make the switch. Our personal fave: the lavender bergamot from Apothekari Skin."
Wardrobe Oxygen – Natural Deodorant Review (March 2020).
"The natural skincare company Apothekari started following me on Instagram.  It's a woman-owned small business based in Canada. The founder, Sharmani, reached out via DM in January and said she saw this post and wanted to see if I wanted to try her line of natural deodorants.  Considering how I pretty much rant about every natural deodorant out there in this post, I have props to her bravery and agreed to two bottles of the deodorant in exchange for a brutally honest review, whether that review is positive or negative…. switched to the Lavender Bergamot.  And I have been using it for about six weeks.  No burning, and equally effective.  However, the scent lingers longer.  The Lavender Bergamot has the hippie/day spa scent that I don't mind but I know it's everyone's cup of tea. We're getting into the warmer months here on the Mid-Atlantic Seaboard; if I find this product stops working for me I'll be sure to come back and update this post.  But so far, so good!"

Vicki Duong – 10 UNDER 10K: Vancouver Based Businesses Perfect for WFH. (March 2020)

"Here is a list of some Vancouver-based business & people to make WFH a little bit easier, plus they're all smaller accounts (10 thousand followers or less.) I am a firm believer that the companies we support now are the companies that can continue to exist and thrive post-pandemic so I don't want to hear about how Bezos could be doing more if you're still buying everything off Amazon.

Speaking of getting sweaty, y'all on the natural deodorant train yet? It's safe to say that natural deodorant is one of those things I'm obsessed with (see here and also here) and getting everyone to switch over to natural deodorant is my mission in life.

A lot of the time people will tell me that they don't want to switch because of the detoxifying period that happens when you change from toxic deo to natural deo (because your skin can actually BREATH for once.) There is about a week or two were you're going to feel sweatier than normal as your body adjusts to natural deodorant BUT since we're all stuck at home, maybe now is the time to switch. The new Apothekari deodorants are perfect for those looking to elevate their underarm game. Its roll on applicator means that it's wax-free and it's scented with natural essential oils!

My favourite is the Lavender Bergamot scent."

Toronto Beauty Reviews – Recent Faves: Winter 2020 (March 2020)
"Apothekari Skincare Natural Deodorants: I love Apothekari Skincare's natural deodorant so much that I did a giveaway for all 3 scents! As I mentioned in the post announcing the giveaway, I love this baking soda-free natural deodorant ($24) for its zesty fragrance and quick drying time, and for how well it works."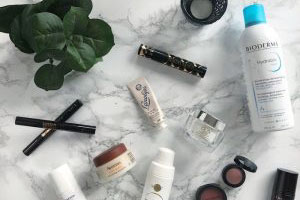 Thank you to all the publications and bloggers who have noticed us and given Apothekari press coverage. We are grateful.