Ageless skin, skin that's healthy, radiant and beautiful, is the goal for most of us. And, the biggest secret to achieving ageless skin is to start taking care of it as soon as you can. It's possible with a combination of the right skincare products and lifestyle choices. Learn more in this post.
Ageless Skin Requires the Right Skincare Products
One of the golden rules to having ageless skin is to protect skin from harmful UV rays. While it's especially true in the summer, it also applies in the winter. The sun emits both UVA (Aging) and UVB rays (Burning). Both types of rays are produced in the summer, and winter sun still gives off UVA rays, which can lead to skin damage at a deeper level. Look for a sunscreen with a minimum SPF of 30.
Apply enough, reapply if needed and make sure to not forget exposed areas like your neck and back of your hands. After sun protection, add in two essential products – a daytime antioxidant treatment (like our Bespoke Vitamin C Serum) and a nighttime retinoid treatment (like our A is for Anti-Aging Serum). Both are available in our Radiant Skin Set.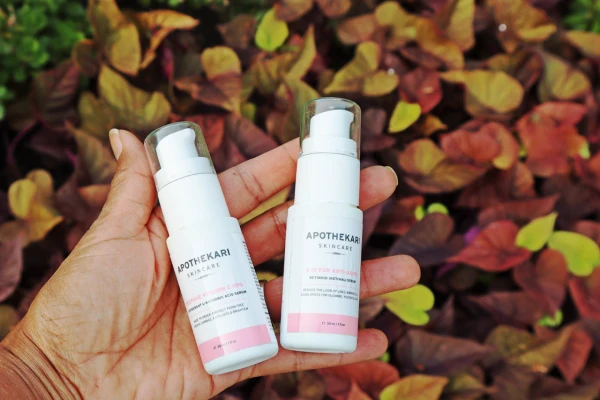 These Ingredients Are Essential in Your AM & PM Skincare Routine
Our Radiant Skin Set is an essential two serum set designed to be used morning and night:
Apply an antioxidant serum in the morning. Protect skin from damage by exposure to elements like pollution, the sun and smoke. The most effective formulations contain Vitamin C,  an ingredient which is backed by lots of evidence to support its skin benefits. L-ascorbic acid is the most widely studied form and we include it in our Bespoke Vitamin C Serum, along with plenty of other antioxidants. L-ascorbic acid protects skin from free radical damage that ages skin, boosts collagen synthesis for firmer skin; increases skin hydration and brightens it, leaving it glowing.
At night, use a retinoid serum. Retinoids come from Vitamin A and have so many benefits including, boosting collagen production for skin firmness; reducing the appearance of wrinkles and fine lines; reversing the effects of sun damage; and reducing the appearance of dark spots, for more vibrant looking and smoother skin. We include retinaldehyde in our A is for Anti-Aging Serum, because it is not only effective but also the gentlest of retinoids, making it suitable for almost all skin types. Retinaldehyde is supported by other skin beneficial ingredients in this formulation.
Make Better Lifestyle Choices
While a good skincare routine is important for ageless skin, your lifestyle also plays a role. Here are a few things to consider:
The impact of stress on your skin can't be underestimated. Stress leads to skin blemishes, lines and wrinkles, dullness plus an increased risk for inflammatory skin conditions like eczema and rosacea. While you can't avoid stress, try to manage it as much as possible.
Eat nutrient rich foods (more fresh fruits and vegetables, lean protein, healthy fats). These provide the building blocks for healthy skin. And, drink more water to keep hydrated. It's essential for skin health, but also to help your body function optimally.
Sleep more! Dark circles and under-eye puffiness, sallow skin and inflammatory skin conditions are only a few undesirable side effects of sleep deprivation. Aim for about 8 hours each night.
For more lifestyle tips, read this.