I'm proud of all the products we offer in the Apothekari line-up but I couldn't be prouder of our new sunscreen, Shade SPF 30! Serious skin care deserves a serious sunscreen. Shade SPF 30 has been a long time coming and I'm absolutely delighted to be able to finally offer it to you!
This new zinc oxide, chemical sun filter FREE sunscreen is Health Canada approved and delivers a range of features, making it an ideal choice for all skin types and those of you seeking a natural, physical blocking sunscreen. Shade SPF 30 offers:
Broad spectrum UVA/UVB protection
Non-whitening application (trust me on this. I tried many, many formulations and this one leaves no white cast at all…)
Antioxidant support
Suitability for all skin types. Especially suitable for sensitive skin and individuals with melasma.
It's also fragrance and colorant free & gluten free too!
A Chemical Filter Free, Mineral Based Sunscreen
Formulated with 13.5% zinc oxide (ZinClear), Shade SPF 30 offers healing, soothing and calming properties. Red algae extract (a UV absorbing substance) and ergothioneine (a natural antioxidant and amino acid, which prevents UV damage) offer additional UV protection and help support against free radical damage.
It is an absolute must-have for anyone concerned about the health of their skin.
Like all Apothekari products, Shade SPF 30 is free from:
Parabens
Phthalates
Formaldehyde
SLS/SLES
Synthetic colorants and fragrances
Silicone
It is cruelty-free and never tested on animals.
Key Ingredients
Zinc Oxide. Broad spectrum protection from UVA and UVB exposure which also promotes healing, soothes and calms the skin
Thiotaine® (ergothioneine). Natural antioxidant and amino acid, prevents damage caused by UV radiation, recycles Vitamin C, assures efficient energy production, inhibits Tyrosinase (responsible for melanin production)
Porphyra Umbilicalis (Red Algae) Extract. Organism that lives in shallow water where it is exposed to extreme UV radiation, produces the most powerful UV-absorbing substances in nature, and the extract itself absorbs both UVA and UVB light.
Shade SPF 30 should be applied to clean skin 15 minutes prior to sun exposure. Use it daily and allow it to absorb before applying make-up. Product should be "patted" on, not rubbed in. As this is a physical sunscreen, the product sits on top of skin and is not absorbed. Reapply frequently. *Designed for facial use and not water resistant so use a water resistant sunscreen if sweating or swimming.
Apply Shade SPF 30 daily along with Apothekari Bespoke Vitamin C Serum each morning (serum first, followed by sunscreen) to benefit from unparalleled protection against free radicals (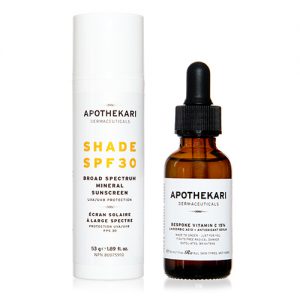 generated by exposure to UV rays, pollution and daily living) and UV rays.
Keep in mind that while daily sunscreen use is one of the best ways to minimize skin damage and can help to reduce the risk of developing some types of skin cancer, that sun smart habits are important too:
Stay out of the sun during its peak hours, between 10 am and 4 pm.
Seek shade when possible.
Cover up with hats, sunglasses, long-sleeved shirts and pants.
We hope that you love this sunscreen as much as we love bringing it to you!