For healthy and beautiful skin, Apothekari Skincare has you covered. And. as part of our evolution, we're excited to share our new look with you!
Why Skincare Packaging Matters
There's no disputing the importance of what's
inside
your cosmetics container – our line of naturally safe products helps to deliver healthy and beautiful skin on your face and body.
How
products are packaged is also very important. We've discussed
cosmetic packaging previously
and why you should consider more than just how pretty a bottle looks sitting on a shelf. Our new look isn't just for show:
Opaque white containers protect against light and air, which can accelerate the breakdown of skincare products.
Pumps. We now use them whenever possible to minimize contact with hands, which can contaminate what's inside. Also, because you end up opening and closing the container less frequently, this further protects against exposure to light and air, which degrade cosmetics.
Stable, Recyclable & Safe Containers. We chose our containers because they are made of materials that will not react with what's inside, helping to maintain the stability of our formulations. Safety was another consideration. Unlike glass, plastic doesn't break when dropped, something that has a great potential of occurring with wet, slippery hands and hard surfaces in bathrooms. Plus, our containers are all recyclable.
Beautiful Skin With Our Black Friday Sale
Get ready for beautiful skin with Apothekari by taking advantage of the savings offered during our Black Friday Sale!
For 2 days only, November 28th/29th, save 25% on Apothekari Skincare (excluding sets). PLUS get a FREE Shade SPF 30 Sunscreen with every Apothekari purchase as our gift to you. Use code blackf25 at checkout.
Full details here.
New Packaging & A New Natural Deodorant That Works!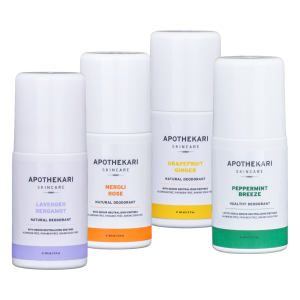 It's not just our packaging that's evolved, we're also developing new products. Our latest is a
natural deodorant
that works! If you've suffered the pain of using natural deodorants that don't deliver, you'll want to try ours. Nearly two years in development, we're thrilled to share it with you. Our natural deodorant is FREE FROM:
Aluminum. Which stains clothing yellow
Parabens. Which are potential hormone disruptors
Baking Soda. Which is highly irritating to most skin.
Available in 3 essential oil scented blends –
Lavender Bergamot
,
Grapefruit Ginger
,
Neroli Rose
, in a convenient roll-on application, are you ready to give it a try?