Love Your Skin!
Enjoy 30% Off Apothekari Smooth Skin Set
For Valentine's Day
Pamper your skin & punch up the smoothness with an invigorating exfoliating polish and luscious moisturizing butter for the body!
Until Sunday, February 16th, save 30% on our Apothekari Smooth Skin Set 
(Regular Price: $78.50; Sale Price: $54.95).
 Buy Apothekari Smooth Skin Set
   at our online store PhaMix

This Set Includes:
Bamboo Lemongrass Foaming Body Polish. Punch up the smoothness with this invigorating exfoliating polish for the body! Made with walnut shell powder, powdered bamboo and a light, refreshing essential oil blend of lemongrass, mimosa, this foaming scrub revitalizes and invigorates your skin and your senses leaving skin feeling soft, smooth and silky.
Shea Body Butter. Pamper dry skin! This luscious butter for the body moisturizes dry, cracked skin. Made with organic shea butter and infused with healing herbs, fresh oils and an intoxicating blend of essential oils this extra-rich, protective crème penetrates deeply to leave softness behind.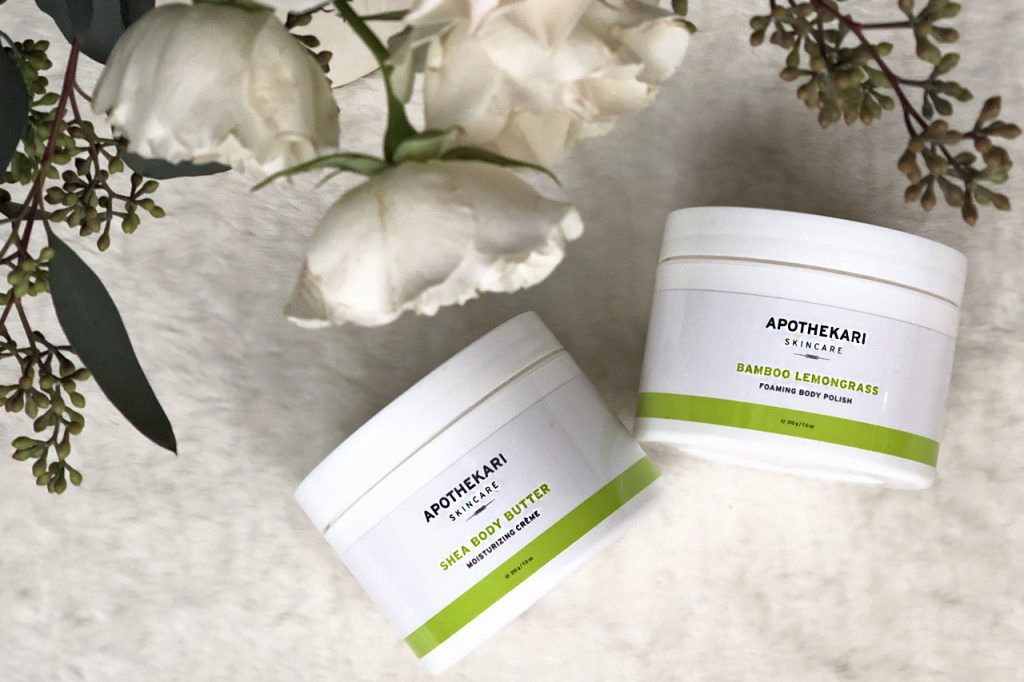 Learn more about getting smooth skin:
About Apothekari Skincare
Apothekari is a skincare company based in Vancouver, Canada. We provide products that are clinically formulated and naturally safe to promote healthy & beautiful skin!
Apothekari products are free from:
Parabens
Silicones
Phthalates
Synthetic colourants
Synthetic fragrances
Animal testing (Cruelty free)
Formaldehyde preservatives
SLS (sodium lauryl sulfate) and SLES (sodium laureth sulfate)
Learn more about our philosophy here…